PE Grant Southwold Primary School is committed to supporting students to develop a love for sport. We encourage children to be physically active and teach them to understand the importance of healthy living and well being. Whilst it is good to have lots of fun and enjoyment of any sport, independence is always encouraged for each child to gain their full potential. Each child is positively engaged in all of the activities we offer at Southwold. We provide after school sports clubs for all children in order for them to gain further support and become engaged in physical activities further. We have our own school football team and enjoy other outside sports, such as ice skating and swimming.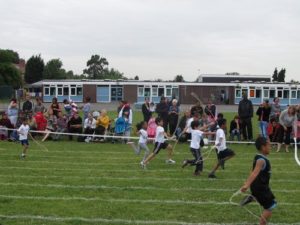 What is Sports Premium?
The Government is providing funding of £150 million for primary schools to provide new, substantial primary school sport funding. This funding is being jointly provided by the Departments for Education, Health and Culture, Media and Sport, and will see money going directly to primary school head teachers to spend on improving the quality of sport and P.E for all children.
We are currently developing our sports premium plan to raise standards and participation levels in P.E throughout the school.
We will be following the guidelines for how to spend this money and a few of these examples are listed below:
| | |
| --- | --- |
| Suggested use of Funding | What we have done |
| Employing specialist PE teachers or qualified coaches to work alongside teachers in lessons to increase their subject knowledge and confidence in P.E. | Anthony has been coaching at our school for many years and is now working alongside teachers in school to improve their own development in P.E lessons. |
| Quality assuring the work of sports coaches and instructors employed to coach in P.E lessons and after-school sports clubs. | We have begun new clubs and Anthony is carrying out after school clubs for KS1 and KS2 children. |
| Purchasing specialist equipment and buying quality assured professional development materials for PE and sport | We are investing in planning resources to help support quality PE as well as expanding our range of equipment to help develop skills as well as to help all pupils engage successfully in physical activity. |
PE Grant Evaluation Of Impact 2021 2022
Covid-19 PE at Southwold reminder
Other Aspects of PE at Southwold
All classes from year 2 to year 6 have swimming lessons at Harvey Hadden Leisure Centre.
Please find a letter regarding swimming participation here: Swimming Letter For Parents
2022 – 2023:
29 children in class 6.
25 children (86%) could swim 25m by the end of year 6.
4 children cannot swim 25metres by the end of year 6.
2021 – 2022: 
28 children in class 6.
26 children (93%) could swim 25 metres by the end of year 6.
2 children cannot swim 25 metres by the end of year 6.
Each spring our school is involved in PE tournaments and sports competitions with the family of schools. We also have a football team and play football matches against other schools from across the city.
Action Plan
PE Curriculum Policy And Overview 2022 2023
KEEP NOTTINGHAM SCHOOLS MOVING!!!
NHS Couch to 5k training programme (when we are allowed to roam again) https://www.nhs.uk/live-well/exercise/couch-to-5k-week-by-week/
This Girls Can Disney Dance Routines https://www.thisgirlcan.co.uk/activities/disney-workouts/
PE with Joe Wicks on YouTube (This is very popular and very good!) https://www.youtube.com/watch?v=mhHY8mOQ5eo&t=36s
Youth Sport Trust Learning – PE at Home https://www.youthsporttrust.org/pe-home-learning
Change4Life Activities  https://www.nhs.uk/change4life/activities
BBC Super Movers  https://www.bbc.co.uk/teach/supermovers