What Time does school start and finish?
Early Years' session times;
Full time:   8:45 am to 3.15pm    (full time Nursery and Reception)
Part-time: 8:45 am to 11.45pm  (morning Nursery)
Or             12.15 to 3.15pm       (afternoon Nursery)
The School Day:
School hours are 8.55am (with a soft start from 8:45am) to 3.15pm
Children can enter the classroom from 8.45am. School gates are locked at 8:55am
School finishes at 3.15pm
Please let us know if your child is to be collected by somebody your child's teacher is not expecting
Lunch break is 12.00pm to 1.00pm for EYC and 12.15pm to 1.10pm for main school
What is the Uniform?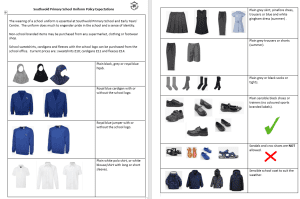 PE/Games
For boys and girls: Blue or black shorts or jogging bottoms. White t-shirt/white polo shirt, plimsolls indoors, trainers outside.
For hygiene reasons it is important that children have a PE kit to change into.
Swimming kit
A one piece swimming costume for girls and swimming trunks (not long shorts) for boys and a towel.  If your child wishes to wear goggles then you must send a letter to your child's class teacher stating the reason.
School sweatshirt, cardigans and fleeces with the school logo can be purchased from the school office.  Current prices are: sweatshirts £10.00; cardigans £11.00 and fleeces £14.00.
We also sell Reading folders (book bags) for £6.00 and P E bags for £4.00.
Please ensure that all items of clothing are named or marked for identification purposes.
How much are School Dinners?

You can find out all about school dinners from here
Can we take a holiday during school time?
 It is important to understand that holidays cannot now be authorised (since September 2013) due to a change in legislation by the Government.
What will I have to pay for trips and visits?

The school and Governors are committed to the general principles of free education. We also recognise the importance of providing a broad and balanced curriculum with a wide range of activities and experiences. Unfortunately this means we need to ask for a voluntary contribution towards the cost of these. Further information can be found in our Charging And Remission Policy 2022 24
How big are the classes?
We have one class per year group from Reception to Year 6. Each class contains no more than 30 pupils, making us a school with a pupil admission number of 210 in total. This does not include our Early Years Centre.